Aims and Scope
Koji Akashi, Mamoru Tanaka
---
Background:
Anaerobic activities often require explosive muscle power; it is therefore possible that players' skeletal muscles sustain damage during the game, which leads to a performance decrease as the game progresses.
Objective:
This study investigated the relationship between muscle damage and activity profiles during team handball matches.
Methods:
This study conducted two handball games to examine the relationship between muscle damage and impacts against the body during the games. We studied one handball match between members of the same university team (Game I: 12 male court players) and a practice match between a Japanese handball league team and the university student team (Game II: nine male court players and six controls).
Results:
Plasma myoglobin concentration and plasma creatine kinase activity, both of which are biomarkers for muscle damage, increased to above their normal ranges after both games. The magnitudes of the changes in both plasma myoglobin (p<.05) and plasma creatine kinase activity (p<0.05) from before to after the game were significantly different between the players and controls in Game II. There were significant correlations between the number of shots taken in Game II and biomarkers for muscle damage; the changes in plasma myoglobin concentrations (p<0.01) and plasma creatine kinase (p< 0.01) activity levels.
Conclusion:
These results suggest that team handball matches involve high-intensity exercise that is sufficient to cause muscle damage. Additionally, our findings suggest that the severity of muscle damage is related to the specific actions associated with taking shots, such as jumping and colliding with a defender.
---
March 20, 2020
Andrigo Zaar, Eduardo Borba Neves, Abel Ilah Rouboa, Victor Machado Reis
---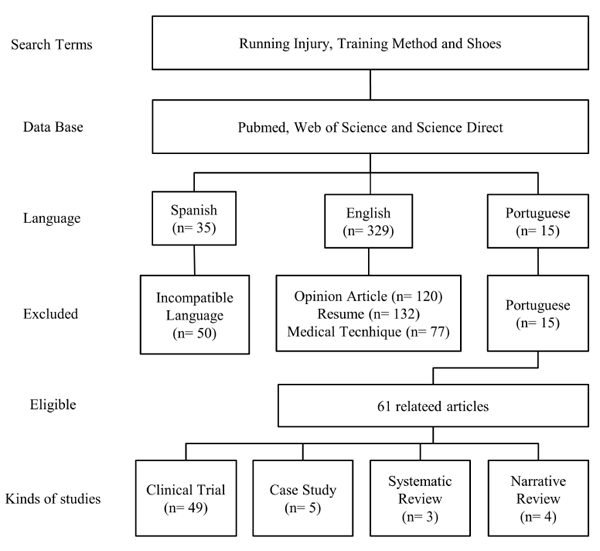 Background:
Long-distance running is a popular recreational exercise. It is a beneficial activity for health and wellness. However, the running can also cause injury, particularly in the lower extremities. There is no consensus in the literature on the intrinsic and extrinsic factors that cause these musculoskeletal injuries. In theory, most injuries are caused by methodological errors, the type of footwear and terrain.
Objective:
To identify the factors associated with injuries in recreational runners based on evidence.
Method:
The data sources used were: PubMed, Science Direct and Web of Science. Compiled the English-language articles identified by keywords, titles of medical affairs and research of electronic databases above. With this research from the review process, controlled trials were grouped in a study population consisted of recreational runners.
Results:
Evidences suggest that injuries are common for runners. Many variables can contribute to the injury process, among them extrinsic factors such as training methodology, running shoes and surface.
Conclusion:
To modify one or more of these factors may help prevent injury, so coaches and runners should consider it, and prevention efforts need to be tailored to this group to reduce the risk of specific injuries.
---
December 29, 2017